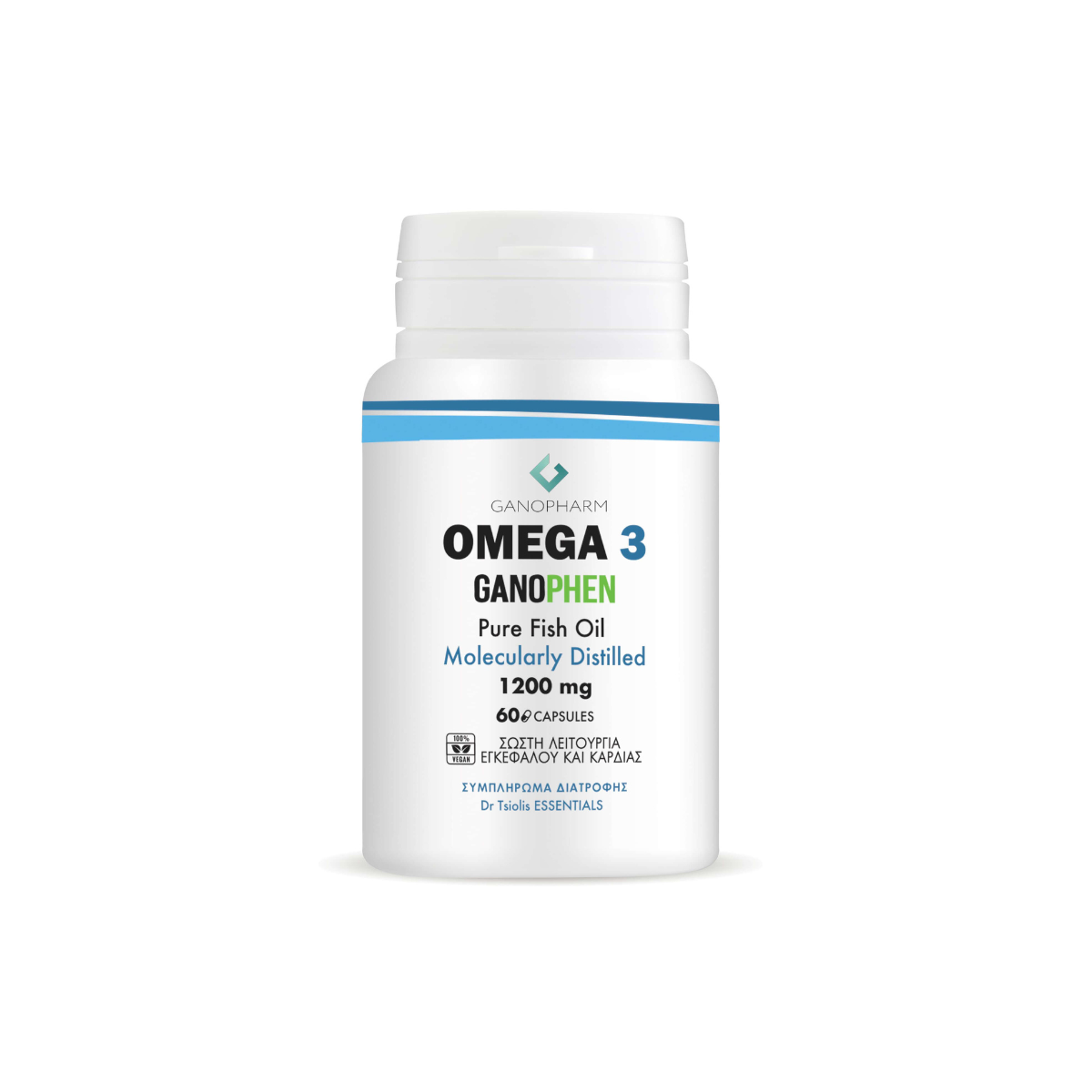 Description
Omega 3 1200 mg
60 VEGAN Capsules | barcode:

 
5214001413041
Ganophen Omega 3 | Promoting Optimal Brain, Heart, and Eye Function.
Formulated with the perfect balance of EPA and DHA at ideal dosages. Molecule-purified (free from heavy metals). Supports the normal functioning of the brain, heart, and eyes. Reduces the risk of dementia and enhances memory. It is the most potent natural anti-inflammatory substance.
GANOPHEN-Ω3 by GANOPHARM is produced from double molecular distilled fish oil, concentrated to deliver abundant EPA and DHA polyunsaturated fatty acids in their purest form. This fish oil is entirely free from any residues, such as Mercury, Lead, Cadmium, trace Chromium, Dioxins, and any form of impurities commonly found in fish tissues, especially those feeding on the seabed.
Furthermore, GANOPHEN-Ω3 is derived from fish like small sardines and anchovies (known as pelagic fish) that inhabit the upper layers of cold northern seas. Due to the extremely low temperatures in these regions, these fish accumulate substantial amounts of this healthy fat, which provides us with exceptional Omega-3 fatty acids.
EPA and DHA contribute to the normal functioning of the heart. This is because Omega-3s have a regulatory effect on the electrical activity of cardiac muscle cells, acting as antiarrhythmic and antiplatelet agents. Omega-3s are particularly valuable in the post-myocardial infarction phase.
The Eskimos, who consume Omega-3s daily, have very low rates of cardiovascular diseases. Additionally, Omega-3s are Nature's most potent anti-inflammatory substance, combating chronic inflammation, a condition often attributed to our typically unhealthy diets. Persistent inflammation can lead to severe health issues threatening our well-being.
We have a wide variety of products in stock.